BEIJING, Sept 18, 2021 - Lepu Medical Technology (Beijing) Co., Ltd. ("Lepu Medical"), a global leading company specialized in developing, manufacturing, and marketing high-tech medical devices and equipment, on Sept 17 co-hosted a virtual seminar themed "Neurointervention Beyond Borders: Techniques and Experiences in Aneurysm Coiling" with its subsidiary TJWY Medical, one of China's leading neuro-interventional device enterprises.
The seminar, held virtually via live streaming video, was the second in the Lepu International Live Academic Conference series, following the series' debut in April. The seminar featured medical professors from prestigious institutions in China, Kazakhstan and Peru who shared insights into clinical applications of embolic coil in the treatment of cerebral aneurysms.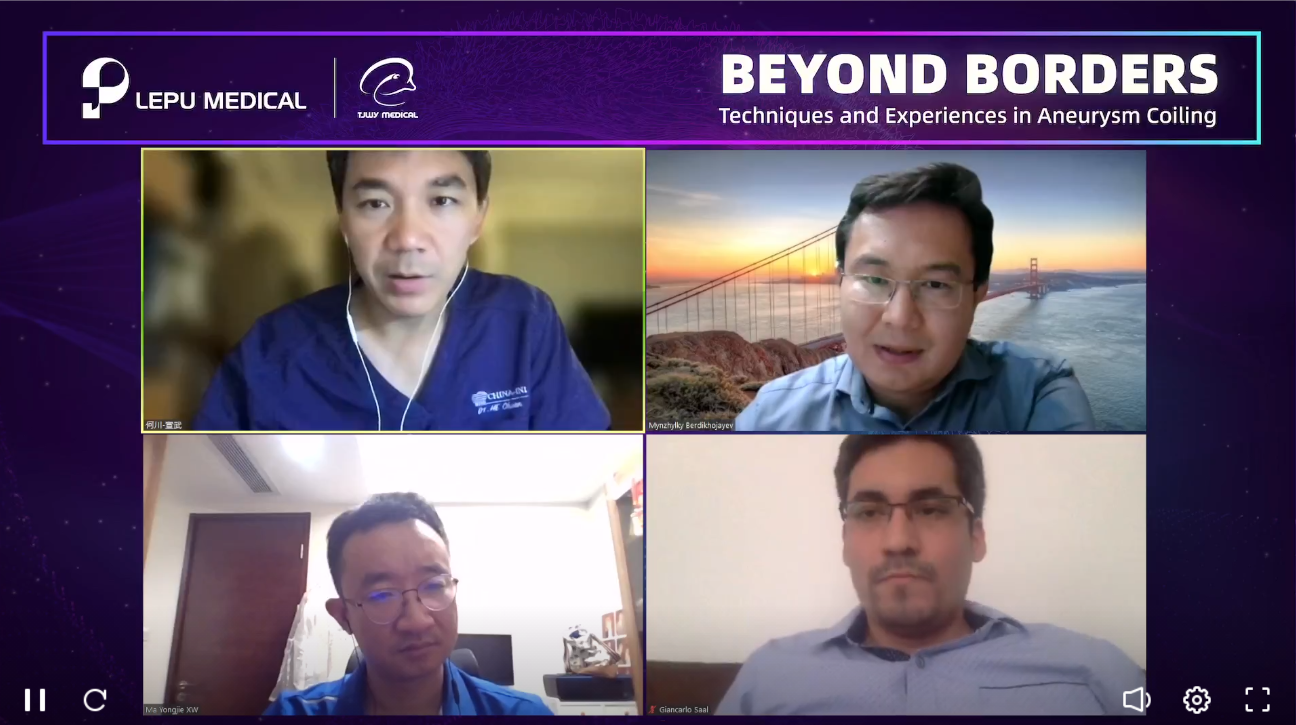 Lepu Medical invited MD, Professor Ma Yongjie from Xuanwu Hospital of Capital Medical University to introduce the capabilities and seasoned team of China International Neuroscience Institute (China-INI), and to discuss the development of neurointerventional treatment in China. MD, Professor He Chuan from Xuanwu Hospital of Capital Medical University illustrated the capability of neurointerventional treatment through four aneurysm coiling surgery and treatment cases. Cases include multiple irregular aneurysms of the Acom and Pcom and basilar arteries. MD, Professor Berdikhojayev Mynzhylky from the JSC Central Clinical Hospital in Kazakhstan focused on wide neck aneurysm endovascular management with various cases, including a demonstration of how endovascular neurosurgery has evolved in Kazakhstan. Professor Berdikhojayev Mynzhylky described the treatment strategy of wide neck aneurysm assisted by balloon and stent. MD, Professor Giancarlo Saal‐Zapata from Hospital Nacional Guillermo Almenara Irigoyen-EsSalud in Peru shared knowledge and experiences in the transradial approach for the treatment of vascular pathologies.
The hour-and-half-long virtual seminar, featuring keynote speeches from professors and a panel discussion on the cases and neurointerventional technologies was well-attended around the world, attracting over 500 virtual attendees, and generating a lively discussion on the topic and more than 1600 likes. Viewers actively participated in the livestream by asking questions to the presenting experts and sharing thoughts on the technology and techniques.
As a leading company in the cardiovascular and neurovascular fields, Lepu Medical is devoted to contributing to the development of neurointervention. To this end, Lepu Medical has developed and marketed a robust neurointerventional product portfolio, including Perdenser® Embolic Coil System, Perfiller® Hydrogel Embolic Coil System and Frepass® Disposable Microcatheter, which can be applied as a therapy of OSAs. Case studies have shown how the products contribute to successful interventional treatments of small OSAs. In recent months, the Perfiller® Hydrogel Embolic Coil System has been approved with CE Mark, which indicates that the product meets European Union (EU) category standards for safety and performance for purchase throughout the EU and other countries that recognize the CE Mark.
To further the neurointervention technology's implementation in safe and effective OSAs treatments, Lepu Medical has proven clinical operation success of its latest product, Nuva® Flow Diverter. Case studies have illustrated that the Nuva® Flow Diverter can not only effectively treat wide-necked aneurysm, but can also protect the patency of the ophthalmic artery, showing that the device enables smooth operation, good release, excellent strut apposition, and clear visibility.
In addition to neurointervention, Lepu Medical will continue to bring medical industrial insights through future episodes of Lepu International Live Academic Conference series. Upholding the company's spirit of integrity, quality and scientific innovation, Lepu continues to serve as a high-level international academic exchange platform for the international medical community. For more information, please visit: https://en.lepumedical.com/