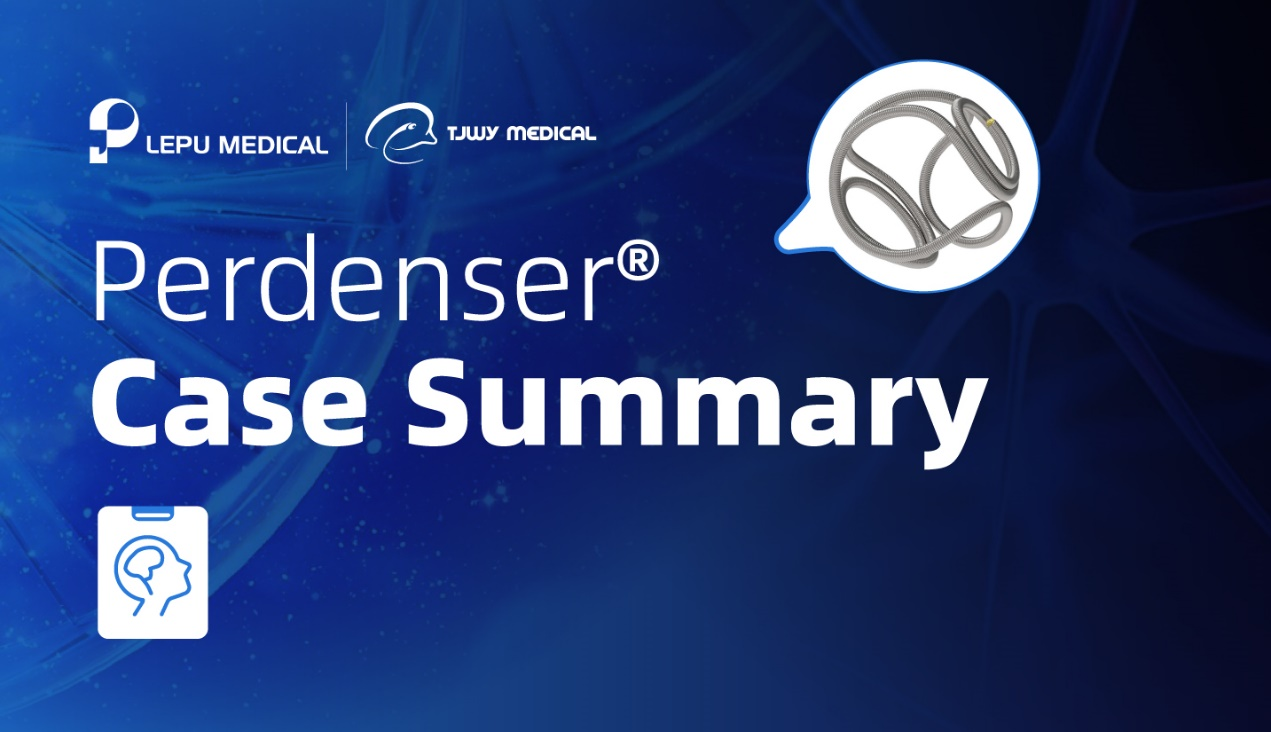 Position:MCA Bifurcation
Surgery: Coil Embolization
Features:Uniform and Compact Filling Performance , Immediate Detaching
Patient Information
• Female, 59 Y.
Pre-operative imaging
• DSA Result: a right middle cerebral artery bifurcation aneurysm.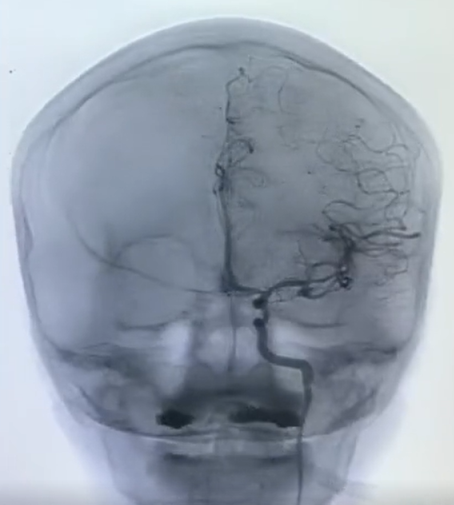 Measurement
• According to three-dimensional measurement, the aneurysm diameter is 3.94*4.01mm.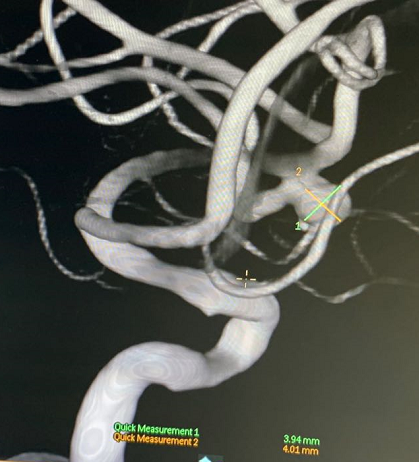 Procedure
• TJWY Medical Perdenser® 5mm*15cm complex coil was used to form a basket. Afterwards, a 2.5mm*6cm spiral coil was used for filling and closure. Therefore, dense embolization was achieved immediately during the operation.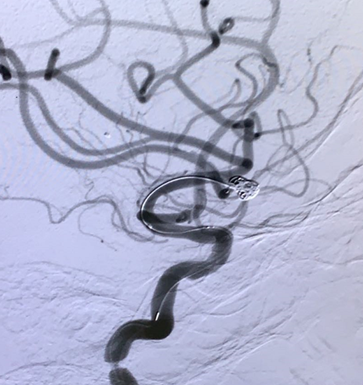 After operation
• The image showed a good effect of dense embolization.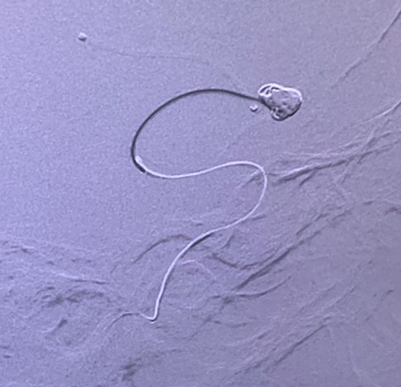 The detection rate of unruptured intracranial aneurysms has been increasing in recent years, and their incidence in the general population aged 35-75 is 7% in China [1]. Subarachnoid hemorrhage (SAH) arising from the rupture of intracranial aneurysms (SAH) is the most common serious consequence of intracranial aneurysms, and its disability rate and mortality rate can reach 25%-50% [2-3].
Middle cerebral artery aneurysm (MCAA), as a common intracranial aneurysm [4], grows mostly at the bifurcations and lateral walls of arterial blood vessels, where the bifurcations are its most common rupture sites [5]. Existing studies [6] have shown that the intracranial artery bifurcation was an independent risk factor to predict the rupture of aneurysms. Studies by researchers show that the complete embolization rate and good prognosis of wide-necked middle cerebral artery aneurysm treated with craniotomy clipping and endovascular intervention had no significant difference, but the hospital stays and complications of the interventional therapy were significantly lower than those of craniotomy clipping. Therefore, the intravascular interventional therapy is safer and can be preferentially used.
Moreover, it is very important to retain the patency of blood vessels during the embolization of the middle cerebral artery bifurcation aneurysm. The coils should be densely filled instead of excessive outward expansion, and thus it is very important to keep blood flow channels intact.
References:
[1] Li MH, Chen SW, Li YD, et al. Prevalence of unruptured cerebral aneurysms in Chinese adults aged 35 to 75 years: across-sectional study [J]. Ann Intern Med,2013,159:514-521.
[2] Murayama Y, Takao H, Ishibashi T, et al. Risk analysis of unruptured intracranial aneurysms: prospective 10-year cohort study[J]. Stroke, 2016,47:365-371.
[3] Lawton MT, Vates GE. Subarachnoid hemorrhage[J]. N Engl J Med, 2017,377:257-266.
[4] Júnior JR, Telles JPM, da Silva SA, et al. Epidemiological analysis of 1404 patients with intracranial aneurysm followed in a single Brazilian institution [J]. Surg Neurol Int, 2019,10:249.
[5] Baharoglu MI, Lauric A, Gao BL, et al.Identification of a dichotomy in morphological predictors of rupture status between sidewall- and bifurcation-type intracranial aneurysms [J]. JNeurosurg,2012,116: 871-881.
[6] Alfano JM, Kolega J, Natarajan SK, et al. Intracranial aneurysms occur more frequently at bifurcation sites that typically experience-higher hemodynamic stresses [J]. Neurosurgery,2013,73:497-505.
Product Information
Perdenser® Embolic Coil System independently developed and produced by Beijing TJWY Medical includes complex type and spiral type. Among them, the complex coils are provided with a 360° Ω-shaped open ring and a random turning point, so that a basket can be formed well, the aneurysm walls are effectively protected, and the rupture of aneurysms is avoided. The good basket formation performance not only helps protect the aneurysm walls, but also provides a good basis for subsequent filling. In design, the head end of the coil is provided with a polymer ball cap. This can ensure that the aneurysm wall will not be damaged and avoid bursting the aneurysm during the operation.
As the coil has the good ability to capture and fill gap, the operation can be effectively ensured to achieve the effect of dense embolization. The coil has hundreds of models, which provides a full range of clinical options from basket formation to filling and closure.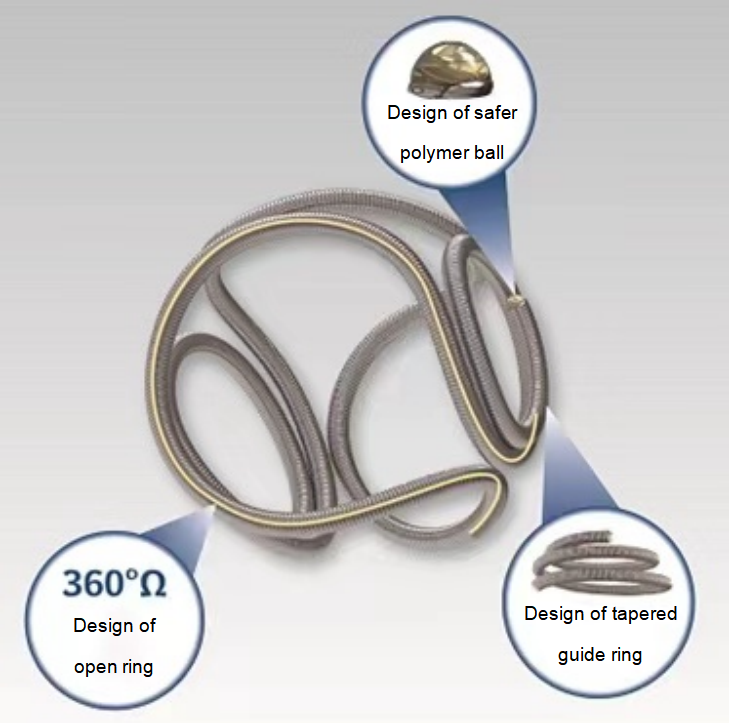 Differentiated softness was adopted according to the different diameters of the rings, so as to meet the filling needs of different-size aneurysms and support the entire operation from basket formation to filling and closure. The ultra-soft rings have received unanimous reviews from the clinic for their softness and safety, which are safe and reliable for closure of embolization therapy of either small aneurysms or aneurysms.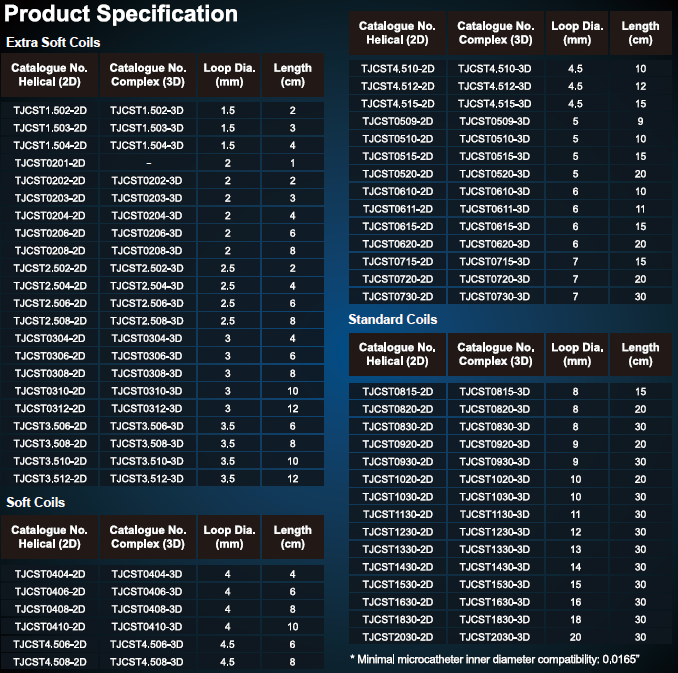 As of today, TJWY occupies the highest market share in Chinese market. It can be quickly and stably released and effectively shorten the operation time. Especially in the treatment of ruptured aneurysms, it will be used to reduce patient risks by making full use of every minute.