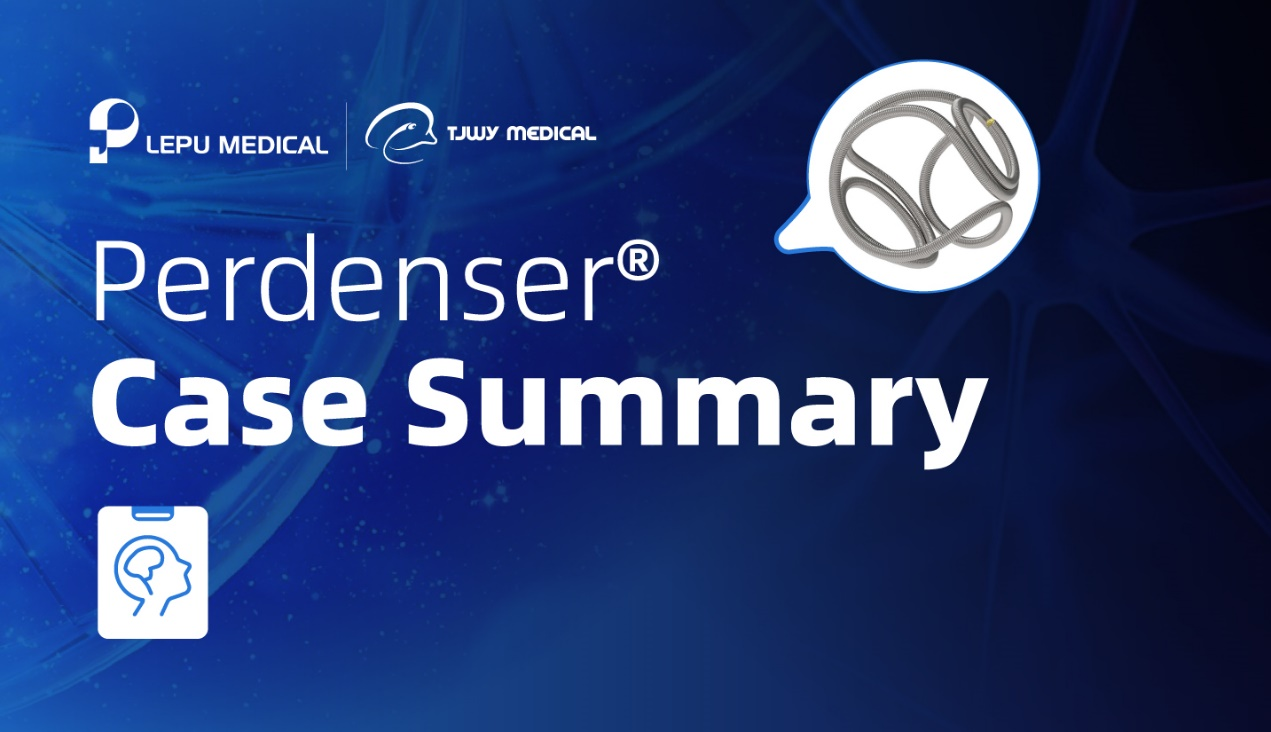 Patient Information
• Male, 10 years old, admitted to the hospital with vertebrobasilar aneurysm.
• Pre-operative imaging
DSA Result: DSA angiography showed that there was a lobulated aneurysm at the tip of the vertebral base. The maximum diameter of the aneurysm measured by 3D was about 8.75mm, and the neck of aneurysm was about 3.48mm.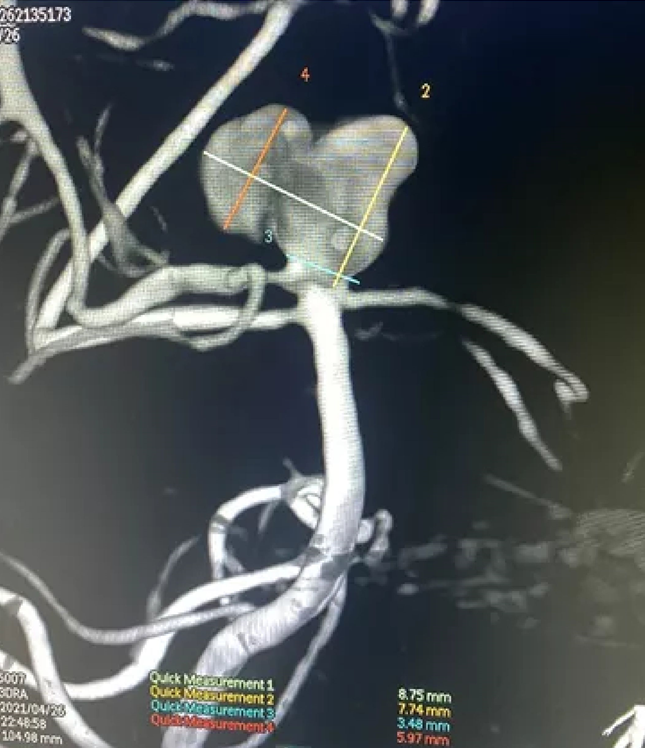 Procedure
• Double microcatheter technology was employed under the guidance of the road map during the operation. Two TJWY Frepass® microcatheters were used to enter the dilobular aneurysm cavity respectively in place, and TJWY Perdenser® 8mm*15cm-3D coil was used for frame. After the coil was formed stably, each part of the frame was filled with Perdenser® 7mm*15cm-3D, 7mm*15cm-2D, 6mm*20cm-3D, 5mm*15cm-3D, 4mm*10cm-2D, 3mm*10cm-2D, two 3mm*8cm-2D, two 2mm*8cm-2D, 2mm*6cm-2D, 2mm*6cm-2D, and 2mm*4cm-2D coils, and Perdenser®2mm*3cm-2D was used to finish the frame.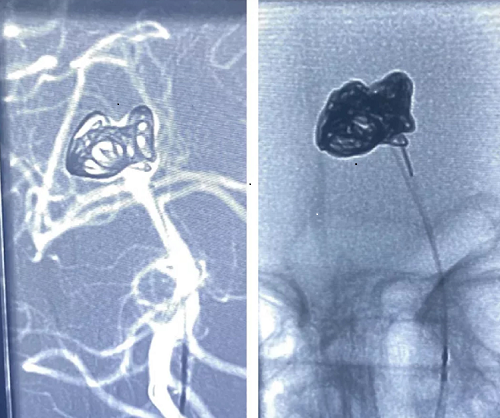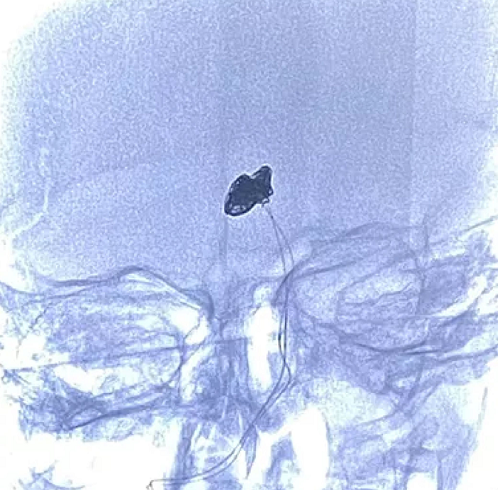 After operation
• The postoperative angiography immediately after surgery showed that the aneurysm was densely embolized, no contrast agent was residual in the aneurysm cavity, and the blood flow in the tumor-bearing artery and branch vessels was unobstructed.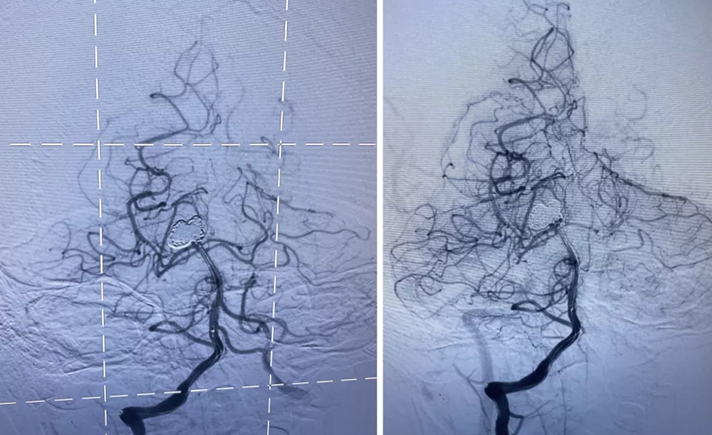 Intracranial aneurysm is one of the common cerebrovascular diseases following cerebral artery formation and hypertensive cerebral hemorrhage, usually caused by subarachnoid hemorrhage (SAH). It has a very high rate of death and disability. Intracranial aneurysms are mostly featured with easy rebleeding, and the mortality rate of rebleeding is higher than 40%, so it needs early and thorough treatment. [1,2]
Among them, posterior circulation aneurysms account for about 5%–15% of intracranial aneurysms, which are most often seen at the top of the basilar artery, followed by posterior cerebral aneurysms, basilar artery trunk aneurysms and vertebral artery aneurysms. Because the vertebrobasilar artery is close to the brainstem, the bleeding after rupture can easily stimulate the brainstem, which has a greater impact on consciousness and vital signs. Therefore, compared with that of carotid system aneurysms, the bleeding of vertebrobasilar aneurysms leads to more severe symptoms and higher levels; the bleeding in this area easily affects the circulation of cerebrospinal fluid, so the incidence of hydrocephalus is higher than that of the anterior circulation. The vertebral artery is easily damaged to form a dissecting aneurysm due to its high mobility, while the vertebrobasilar artery has many small branches, which are easily affected and cause posterior circulation ischemia or even brainstem infarction. Usually, aneurysms often cause space-occupying effects, compressing important structures such as the brainstem and intracranial nerves, and causing facial paralysis, dysphagia and other symptoms of intracranial nerve palsy. [3] Therefore, vertebrobasilar aneurysms brings a greater risk.
Vertebrobasilar aneurysm is a common aneurysm. Large aneurysms and giant aneurysms account for 46.9% of posterior circulation aneurysms. They can involve the trunk and junction of the vertebrobasilar artery, the proximal and distal ends of the posterior inferior cerebellar artery, etc. [4-5] Among all patients with SAH, vertebrobasilar aneurysm has the worst prognosis, causes high mortality and disability rates in patients after treatment, and severely reduces the quality of life. The traditional treatment method is craniotomy, but it has the disadvantages of large trauma and many complications. In addition, because most of the vertebral-basal aneurysms are located deep in the brain, it is difficult to reveal the hemangioma. Furthermore, the vascular and nerve structures in the cranial fossa are concentrated, so surgical treatment is extremely risky and extremely difficult. It is one of the diseases that causes high surgical disability and mortality. In recent years, GDC and DCS have become new embolic materials commonly used in endovascular interventional therapy, and they can bring better efficacy than traditional surgical clipping by combination with the use of intraaneurysmal neck plasty, and the incidence of postoperative complications has been significantly reduced[6, 7]. Compared with traditional surgery, endovascular treatment features less invasiveness. Especially in the treatment of complex aneurysms and aneurysms that are not easily reached or treated by surgical operations, it has significant advantages. Its fatality rate and disability rate are significantly lower than the traditional surgical clipping. In addition, the efficacy and safety of endovascular treatment of vertebrobasilar aneurysms have also been generally recognized by foreign scholars. [8] Therefore, endovascular embolization is expected to become the first choice for the treatment of vertebrobasilar aneurysms.
There are two types of Perdenser® coils independently developed and produced by Lepu-medical TJWY Medical owns: complex and helical. Among them, the complex type relies on its design of 360°Ω open loop matched with random deflecting points, which can form a good basket, effectively protect the aneurysm wall and avoid aneurysm rupture. The excellent frame performance not only helps to protect the aneurysm wall, but also provides a good foundation for subsequent filling. The tip of the coil is designed with a polymer ball cap, which can ensure that the aneurysm wall will not be damaged and the aneurysm will not be broken during the operation.
Its excellent capabilities of gap capture and filling can considerably ensure the dense packing during the operation.
The coil diameter-based differentiated flexibility design can meet the requirements of filling different sizes of aneurysms, and support the operations of framing, filling and closing throughout the whole process. TJWY ultra-soft coil has good flexibility, which not only can be used for framing and filling in the treatment of small aneurysms, but also can be used for closing for the treatment of medium and large aneurysms. The performance in either is safe and reliable.
Softness

3D structure

Loop diameter

(mm)

Length of implanted segment

(cm)

Extra soft type

Loop 1.5-3.5

2D/3D

1.5

2/3/4

2D/3D

2

1/2/3/4/6/8

2D/3D

2.5

2/4/6/8

2D/3D

3

4/6/8/10/12

2D/3D

3.5

6/8/10/12

Soft type

Loop 4.0-7.0

2D/3D

4

4/6/8/10

2D/3D

4.5

6/8/10/12/15

2D/3D

5

9/10/15/20

2D/3D

6

10/11/15/20

2D/3D

7

15/20/30

Strengthening type

Loop 8.0-20.0

2D/3D

3

15/20/30

2D/3D

9

20/30

2D/3D

10

20/30

2D/3D

11

30

2D/3D

12

30

2D/3D

13

30

2D/3D

14

30

2D/3D




30

2D

16

30

2D

18

30

2D

20

30
As China's first second-level detachable coil system, it is featured with stable and fast detachment method, which can effectively reduce the operation time. Especially in the treatment of aneurysm rupture, it can race against time and reduce the risk of patients.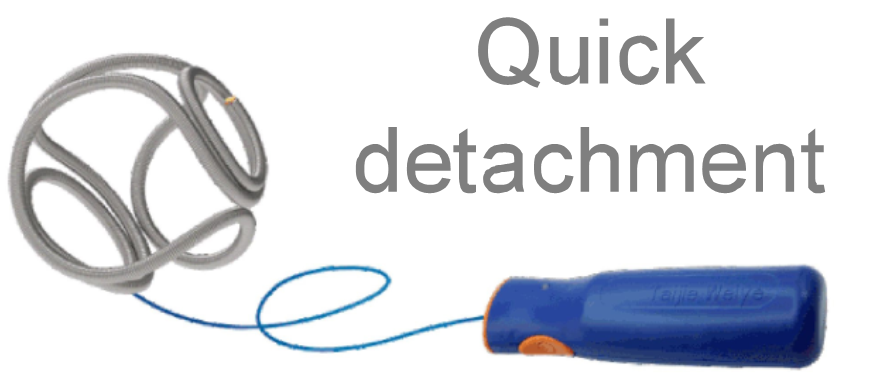 References:
[1] Mizutani T, Aruga T. Kifino T. et al. Recurrent subarachnoid hemorrhage from untreated ruptured vertebrobasilar dissecting aneurysms [J]. Neurosurgery, 1995, 36(5): 905-913.
[2] Kitanaka C, Sasaki T, Eguchi T, et al. Intracranial vertebral artery dissections: clinical, radiological features, and surgical considerations [J]. Neurosurgery, 1994, 34 (4): 620-626.
[3] Hosoya T, Adachi M, Yamaguchi K. et al. Clinical and neuroradiological features of intracranial vertebrobasilar artery dissection [J]. Stroke, 1999, 30 (12): 1083-1090.
[4] Wang Zhenggang, Wang Shuai, Zhang Xudong, et al. 9 cases of microsurgery treatment of intracranial posterior circulation aneurysms. Chinese Journal of Neurosurgical Disease Research, 2005, 4: 163-164.
[5] Xu Bainan, Zhou Dingbiao, Yu Xinguang, et al. Surgical treatment of intracranial posterior circulation aneurysms. Chinese Journal of Neurosurgery, 2002, 18: 142144.
[6] Baltsavias GS, Byrne JV, Halsey J, et al. Effects of timing of coil embolization after aneurysmal subarachnoid hemorrhage on procedural morbidity and outcomes. Neurosurgery, 2000, 47 (6): 1320-1331.
[7] Eskridge JM, Song JK Endovascular embolization of 150 basilar tip aneurysms with Guglichnidetachable coils: results of the Food and Drug Administration multi-center clinical trial. J Neurosurg, 1998, 89
[8] Molyneux A,Kerr R, Stratton I, et al. International Subarchnoid Aneurysm Trail (ISAT) collaborative group. International subarchnoid aneurysm trail (ISAT) of neurosurgical clipping versus endovascular coiling in 2145 patients with ruptured intracranial aneurysms: a randomized trail. Lancet, 2002, 360: 1267-1274.