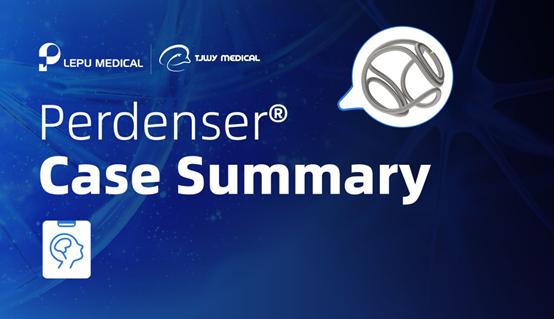 Intracranial aneurysm is an abnormal bulge of intracranial artery due to local vascular wall damage caused by congenital developmental abnormalities or acquired injury, and gradual expansion under the action of hemodynamic load and other factors. The morbidity of intracranial aneurysms in the population is about 2% ~ 7%, which can occur at any age, generally at the age of 40 ~ 60, but its incidence rate has obvious regional and racial differences[1-2]. A study on transarterial cerebral angiography showed that the morbidity of intracranial aneurysms in Asians is about 2.5%~3.0%[3]. Once ruptured, the intracranial aneurysms have a high disability rate and mortality rate. 10%-15% of patients suffer from a sudden death when they have no time to see a doctor. The mortality rate of the first bleeding is as high as 35%, that of the second bleeding is 60% ~ 80%, and many survivors are mostly disabled[4]. Therefore, the active intervention in intracranial aneurysms with operative indications is widely recognized. The surgical treatment for intracranial aneurysms is divided into craniotomy clipping and endovascular interventional therapy. According to the International Subarachnoid Aneurysm Trial (ISAT) results published in 2002, compared with craniotomy clipping, endovascular interventional therapy can reduce the disability rate and mortality rate, and improve the clinical prognosis[5]. This established the position of interventional therapy in the treatment of intracranial aneurysms. Since the ISAT result was published, the interventional therapy for intracranial aneurysms has developed rapidly for more than 10 years. With the emergence of the decorative coil, auxiliary balloons, as well as stent and blood flow guide devices dedicated to intracranial aneurysms, the interventional therapy in the treatment of intracranial aneurysms shows more significant efficacy. This interventional therapy is the preferred treatment method for some cases of intracranial aneurysms. To standardize the intravascular interventional treatment, the Neurointerventional Group of Neurosurgery Branch of the Chinese Medical Association organized experts to discuss and formulate the Consensus of Chinese Experts on Intravascular Interventional Therapy of Intracranial Aneurysms, in order to raise the understanding of physicians on the intravascular interventional treatment for intracranial aneurysms, so that this treatment method is more systematic, standard, safer and effective.
Patient Information
• Male, 36Y.
• Pre-operative imaging
• Before operation, the 3-dimensional image showed the aneurysm size was 3.31mm×5.47mm and its shape is irregular. Embolization with the coil system was to be performed in general anesthesia.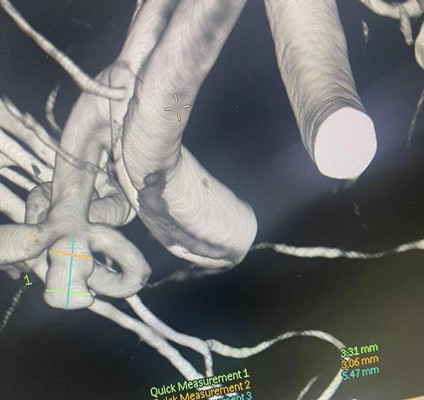 Procedure
• With general anesthesia and right femoral artery puncture, the one-time-use interventional microcatheter was inserted in place under the working position image.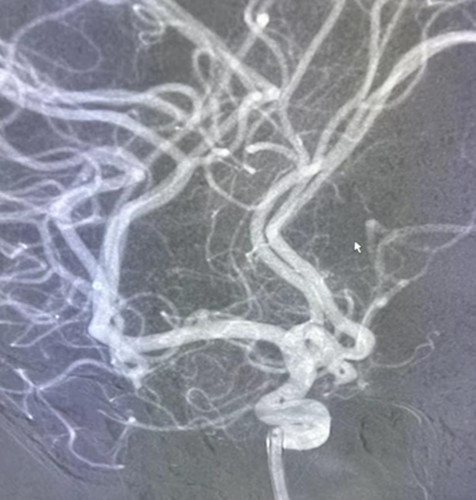 • Perdenser® coil system for embolism 4mm×8cm-3D was used to form a bastket to effectively cover the aneurysm neck.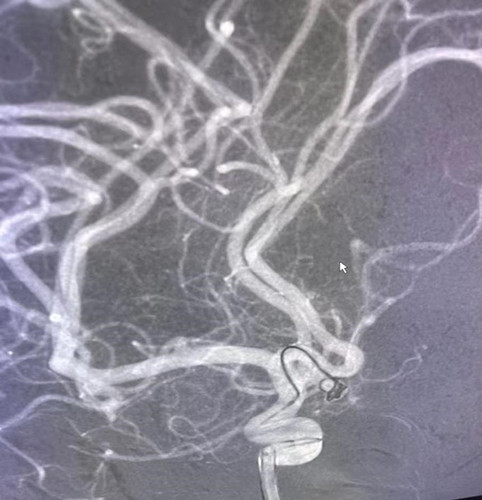 • Perdenser® 3mm×8cm-2D, Perdenser® 2mm×4cm-2D, Perdenser® 2mm×4cm-2D, Perdenser® 1.5mm×2cm-2D and Perdenser® 1.5mm×2cm-2D were used for packing and finally Perdenser® 1.5mm×3cm-2D was used to close up.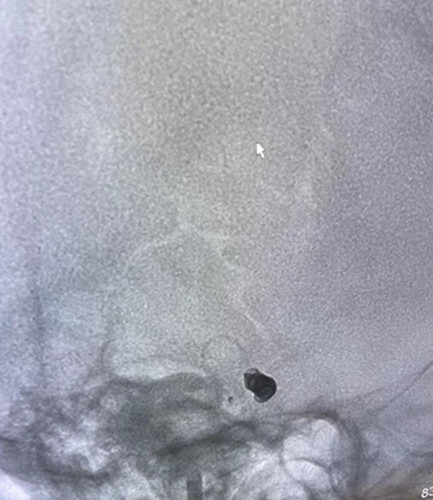 After Operation
• The anteroposterior lateral angiography showed that there was no contrast agent residue in the aneurysm, which was densely embolized with patent parent artery, and the operation ended with an ideal effect.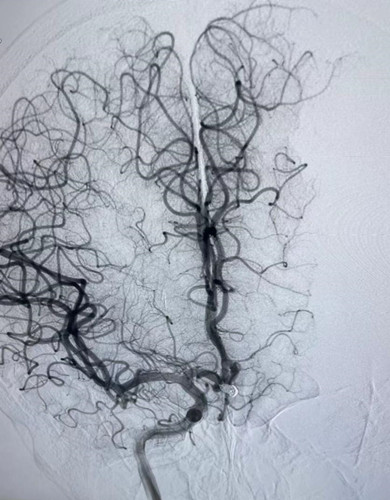 This aneurysm was irregular in shape; in the process of embolization, the coil should be attached to the wall with a stable basket to provide a basis for sebsequent packing. Meanwhile, since this aneurysm was small, the rupture risk was very high. Therefore, the requirement for coil basket formation was also high. Perdenser® coil is of 360° Ω-shaped open-ring design, which can perfectly adapt to the shape of aneurysm and form a stable frame, and reduce tension to the aneurysm wall, so as to ensure safety during operation. Perdenser® Coil System for Embolism is available in complete sizes, rich half sizes and various models e.g.
Product Introduction
Lepu Medical-TJWY's independetly developed Perdenser® Coil System for Embolism is divided into complex type and spiral type. The complex type can be used to make basket with its 360° Ω-shaped design with freely turning point to effectively protect the aneurysm wall and avoid its rupture. An excellent basket performance is not only helpful for aneurysm wall protection, but also provides a good foundation for subsequent packing. The head end of the coil system is designed with a polymer ball cap, which can ensure no damage to the aneurysm wall and avoid rupturing the aneurysm during the operation.
Excellent gap detection and packing ability effectively ensures that dense embolism can be achieved during surgery. Hundreds of models are available for basket formation to packing and close-up.
According to the different diameters of the coils, the system can meet the packing requirements of aneurysms of different sizes and support the whole process operation from basket forming to packing and close-up. Taijie Weiye's ultrasoft coil system for embolism has good flexibility, which can be used for basket forming and packing in the micoaneurysms treatment, but also can be used as close-up coil in the treatment of large-and medium-sized aneurysms, providing safe and reliable performance.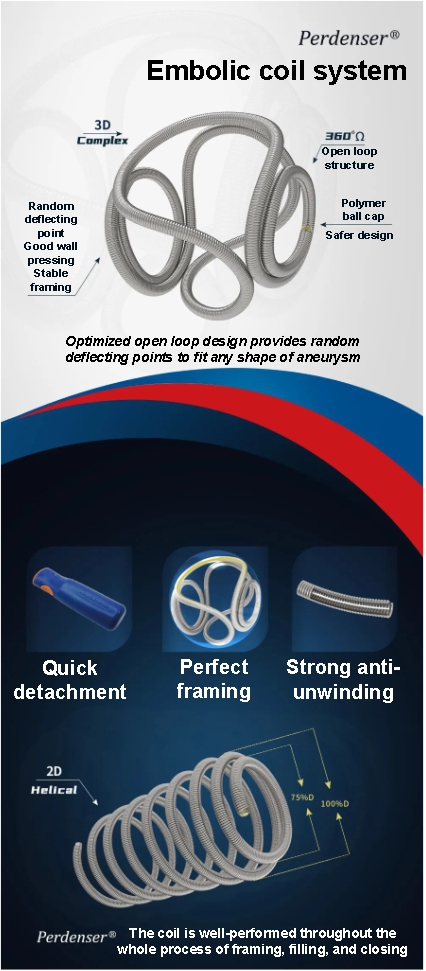 Ultrasoft type

Coil 1.5-3.5

2D/3D

1.5

2/3/4

0.0165"

2D/3D

2

1/2/3/4/6/8

2D/3D

2.5

2/4/6/8

2D/3D

3

4/6/8/10/12

2D/3D

3.5

6/8/10/12

Soft type

Coil 4.0-7.0

2D/3D

4

4/6/8/10

2D/3D

4.5

6/8/10/12/15

2D/3D

5

9/10/15/20

2D/3D

6

10/11/15/20

2D/3D

7

15/20/30

Enhanced type

Coil 8.0-20.0

2D/3D

8

15/20/30

2D/3D

9

20/30

2D/3D

10

20/30

2D/3D

11

30

2D/3D

12

30

2D/3D

13

30

2D/3D

14

30

2D/3D

15

30

2D

16

30

2D

18

30

2D

20

30
References:
[1]Brisman JL,SongJK,Newell DW. Cerebralaneurysms. N Engl J Med,2006,355: 928-939.
[2]Vlak MH,Algra A,Brandenburg R,et al.Prevalence of unruptured intracranial aneurysms,withemphasis on sex, age,comorbidity,country,
andtime period: a systematic review and meta-analysis. Lancet Neurol,2011,10:626-636.
[3]Ujiie H,Sato K,Onda H,et al.Clinical analysis ofincidentally discovered unruptured aneurysms. Stroke, 1993,24:1850-1856.
[4]van Gijn J,Kerr RS,Rinkel GJ.Subarachnoid haemorrhage.
Lancet,2007,369: 306-318.
[5]MolyneuxA,Kerr R,Stratton I,et al. International subarachnoid aneurysmtrial ( isat) of neurosurgical clipping versus endovascular coiling in 2143patients with ruptured intracranial aneurysms: a randomised trial. Lancet,2002,360 :1267 -1274 .