MemoPartTM occluders obtained the CE certificate in 2012. In the same year, MemoPartTM entered overseas markets. Currently, about 140,000 patients with structural heart disease worldwide have been treated with MemoPartTM occluder.
On November 10, 2017, Dr. Khurram Akhtar, Dr. Mehboob Sultan and Dr. Adiba Akhtar Khalil of the Pakistani Military Heart Hospital published a case of a complex congenital heart disease occlusion in the Journal of Cardiology & Current Research. It is a 9-year-old girl who had PDA with inferior vena cava disrupted and Catargay's syndrome (reverse heart - sinusitis - bronchiectasis). MemoPartTM cone shape PDA occluder was successfully implanted via left jugular vein. No serious complications occurred during operation, echocardiography 24h post-operation showed good shaping of the occluder with no residual shunt at the defect.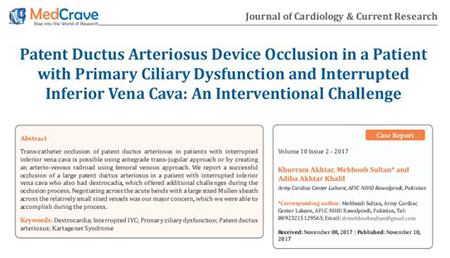 Case Information
The patient is a 9 years old girl. Transthoracic 2D echocardiography confirmed mirror-image dextrocardia with a large conical PDA measuring 7 mm at its slenderest point in parasternal short axis, primary ciliary dysfunction, inferior vena cava disruption, and rare Kartagener syndrome (Kartagener syndrome is a result of achondroplasia or lack of elastic fibers, resulting in the weak or poorly localized vessel wall, often accompanied by sinusitis and visceral transposition - congenital heart disease - congenital). Inferior vena cava disruption may prevent closure through routine surgical procedures.
Treatment
Right femoral vein and artery were cannulated used 5F radial sheath. During the procedure, we found the inferior vena cava (IVC) to drain across the azygous continuation into the right superior vena cava and then track through the dilated coronary sinus in the right atrium. A decision to carry out the procedure from the left internal jugular vein (accessed with 5F radial sheath) was made.
Puncture of the left jugular vein, and 5F angiography catheter, showing the upper arm vein - superior vena cava - right atrium connection path.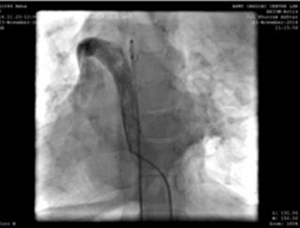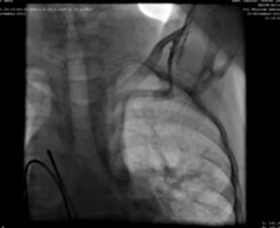 We used a 9F delivery sheath, which was advanced over and placed in the descending aorta over the super-stiff guidewire. A MemoPartTM cone shape PDA occluder 14/12 mm, was attached to the delivery cable and progressed across the delivery sheath. The placement of the occlude was proper with no residual flow.
Results
Surgical success, no serious intraoperative complications, echocardiography 24h after occlusion shows good placement, no residual shunt at the defect.