BEIJING, May 18, 2021 - Lepu Medical Technology (Beijing) Co., Ltd. ("Lepu Medical"), a global leading company specialized in developing, manufacturing, and marketing high-tech medical devices and equipment, on May 14 hosted a virtual "Seminar on COVID-19 Methods For Detection" to share theory and best practices to further promote global COVID-19 control and prevention in China and across the globe.
The seminar, which included a virtual training session and a virtual visit to Lepu Medical's headquarters in Beijing, was part of the seven-day "Seminar on COVID-19 Methods For Detection," sponsored by China's Ministry of Commerce and organized by Beijing Holley-Cotect Pharmaceuticals Co., Ltd. The seminar aimed to help other countries and regions to control the pandemic by sharing China's advanced prevention and control experience.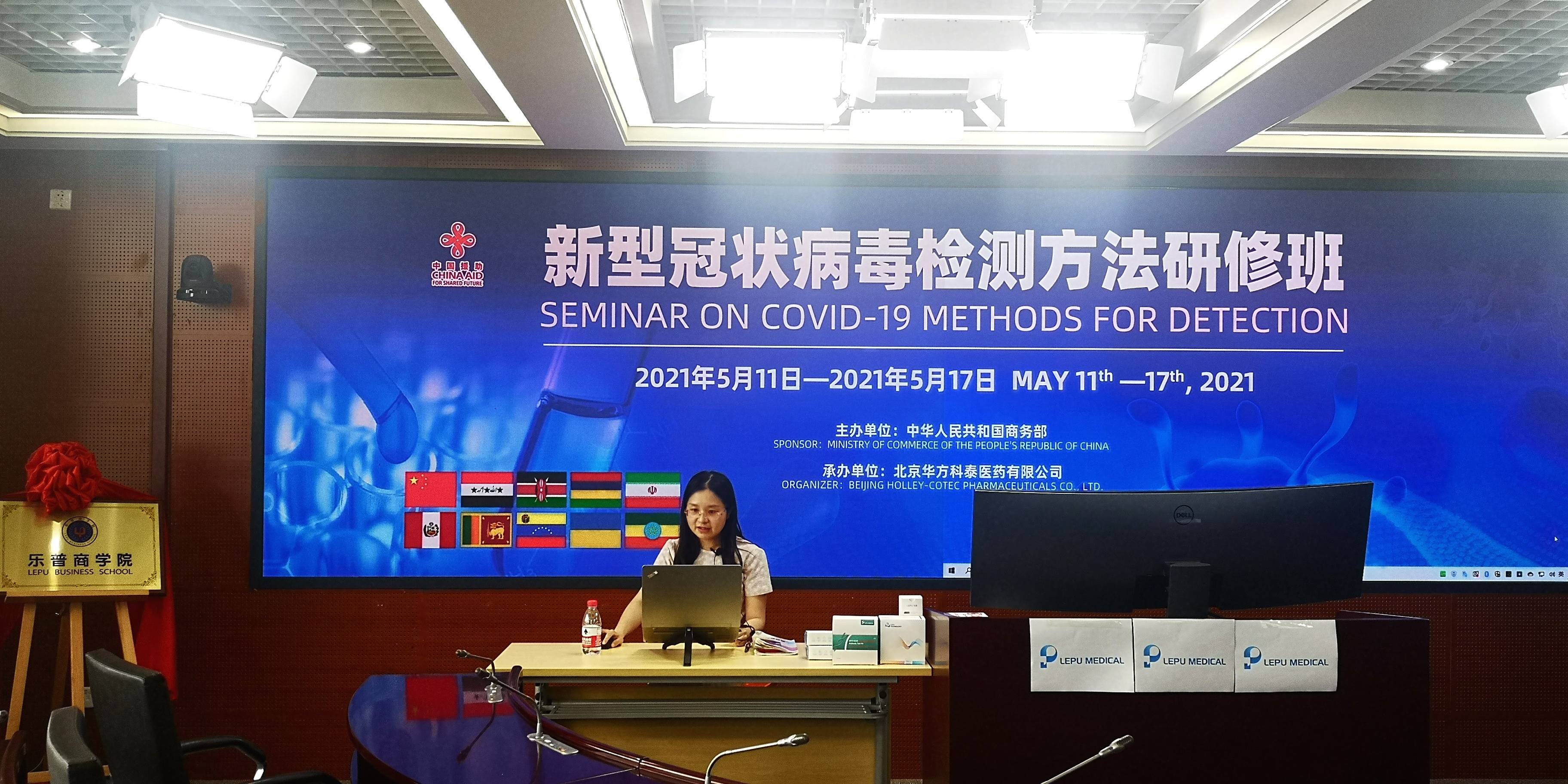 Held virtually via live streaming video, the seminar included question and answer sessions, sharing seminars, cloud visits, and other virtual formats. A total of 77 participants, including medical workers, government staff and researchers in scientific research institutions from nine countries, including Kenya, Mauritius, Venezuela, Peru, Ukraine, Sri Lanka, Iraq, Ethiopia, and Iran joined the lecture and cloud visit hosted by Lepu Medical.
During the seminar, Lepu Medical invited Dr. Jing Yu from the Wuhan Hospital of Traditional Chinese and Western Medicine to deliver a training lecture on basic knowledge and practical experiences of SARS-COV-2 detection, antigen rapid tests, and biochemical indicators for diagnosis. The training course covered the closed loop and seamless SARS-COV-2 detection process from sampling, sample transfer, sample receipt, testing, result reporting and medical waste treatment in various settings including medical institutions, communities, mass screening sites and public places. The seminar, which was well-received by attendees, included a question and answer session in which Dr. Jing Yu and representatives from Lepu Medical answered detailed questions on COVID-19 detection methods, and provided best practice advice to attendees.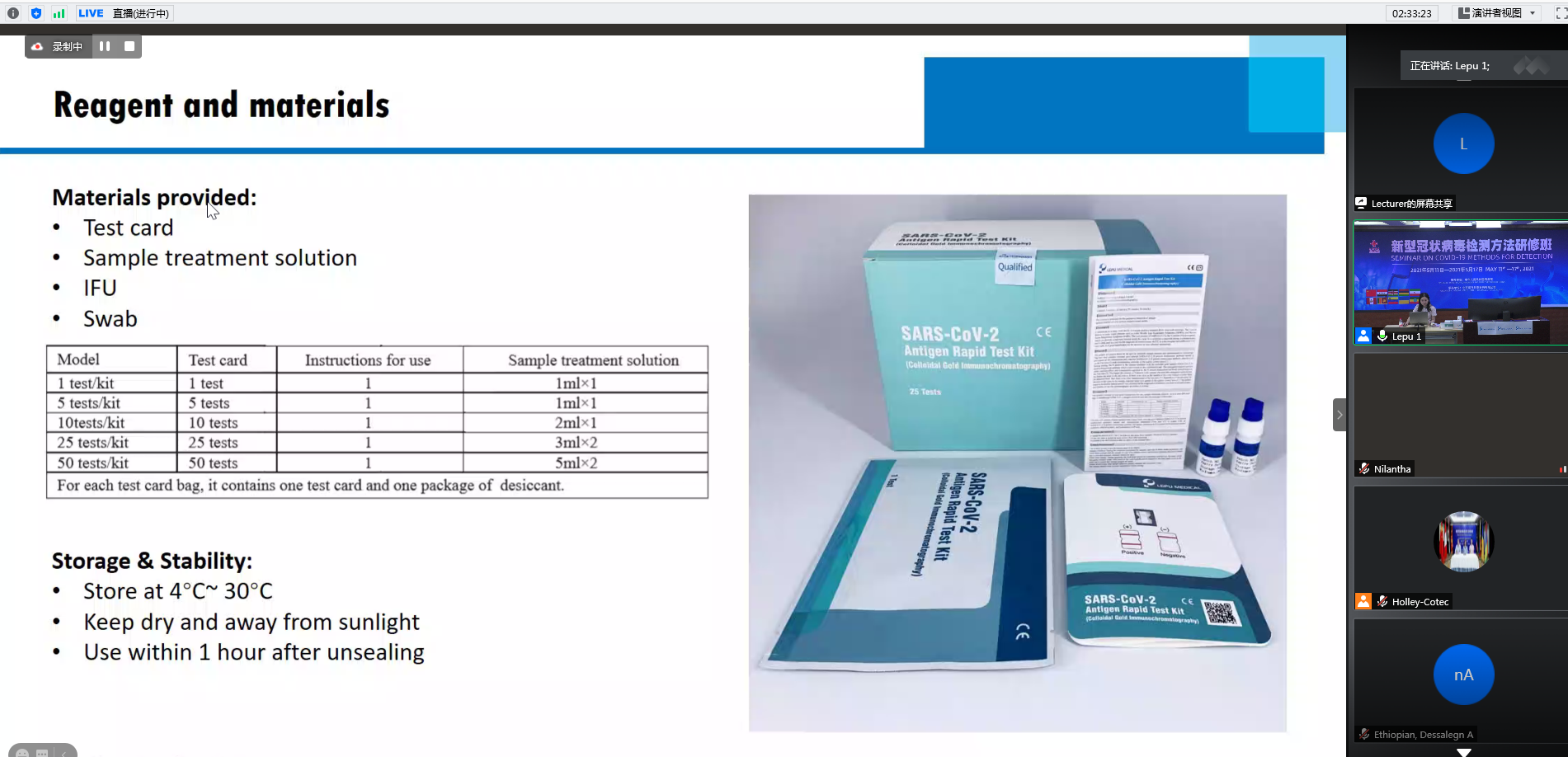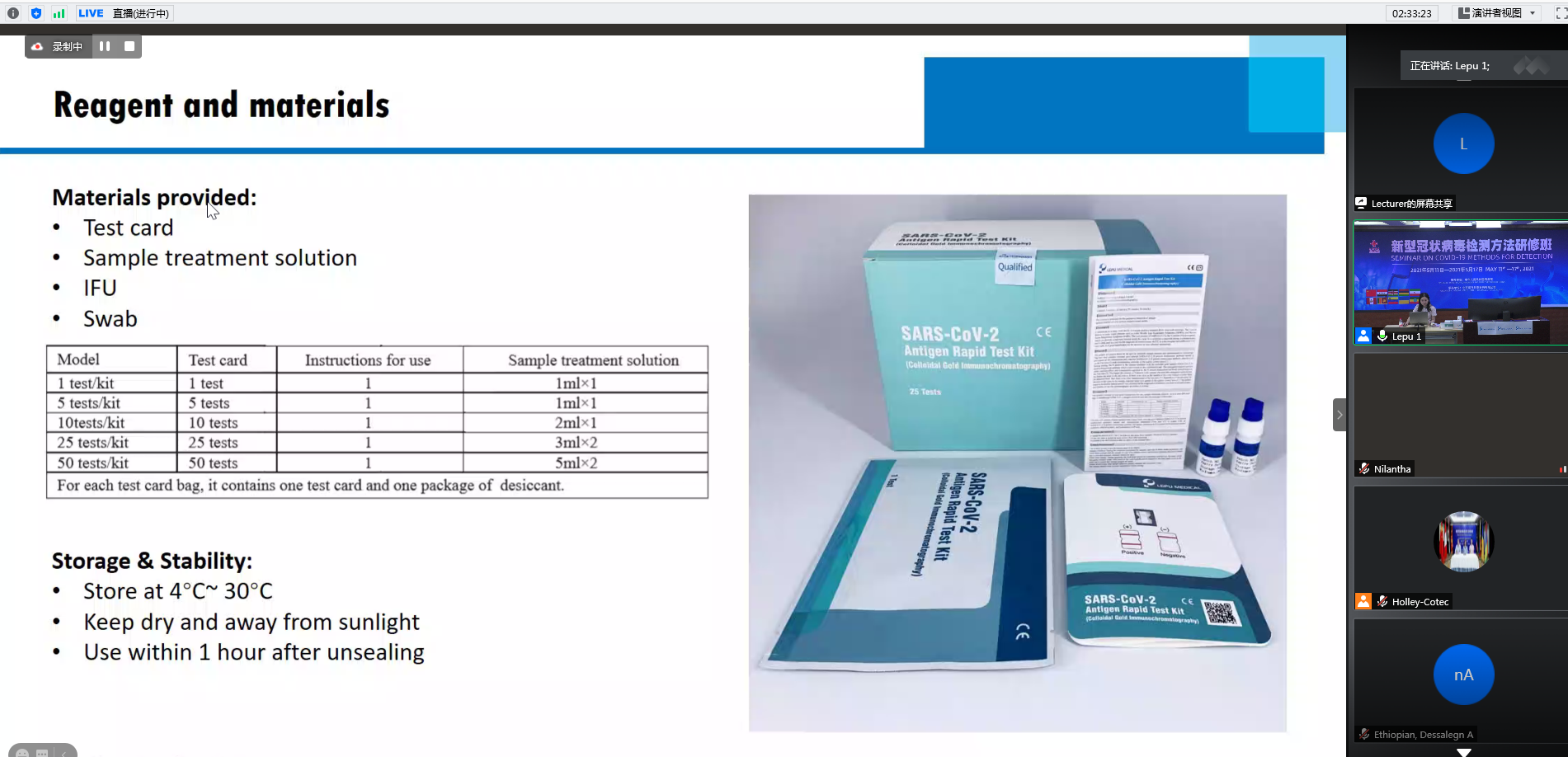 Lepu Medical's 2019-nCoV Antigen Rapid Test Kit (Colloidal Gold Immunochromatography), a simple screening method for COVID-19 that delivers quick results with high negative predictive value (NPV), was held up as an example by Dr. Yu during the training session. The antigen test method, which is non-invasive, simple to use, cost-efficient, convenient, rapid, stable and accurate has shown high sensitivity of 95.06% and high specificity of 99.62% in clinical trials in IPE Center for Clinical Laboratory, a Lepu Medical subsidiary. Results can be quickly retrieved in 15 minutes. Lepu Medical provides both Lepu Professional Antigen test kits for use by medical institutions and Lepu Antigen self-test kits for individual self-test use, to support diverse testing needs. The Lepu Antigen self-test kit is already approved by BfArM and available in Germany.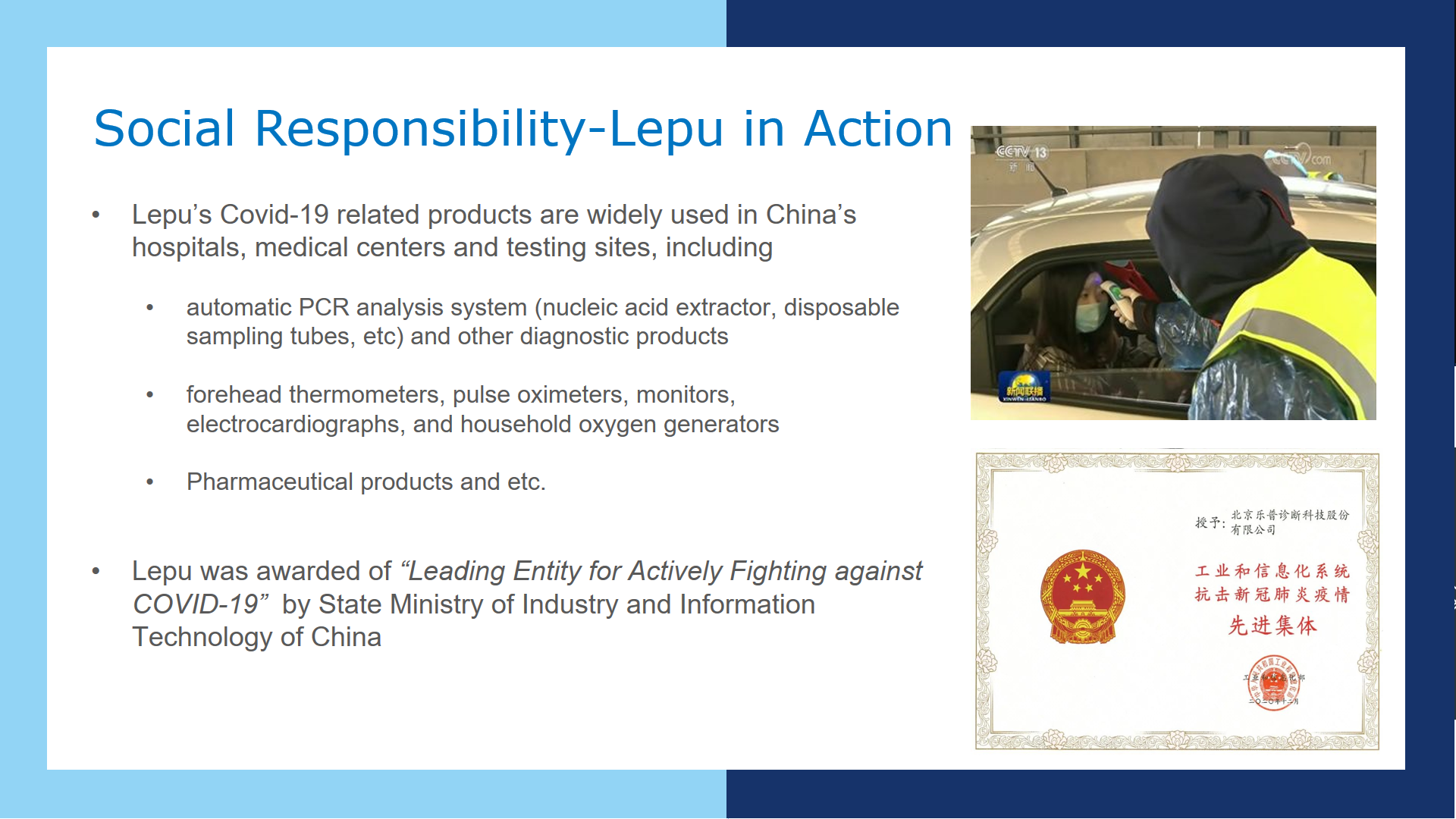 "(For the antigen rapid test,) the positive results can be seen in the early stage after the symptoms (emerged) or in the infection," said Dr. Yu, addressing participant questions raised about test timing and sensitivity during the lively Q&A session following her lecture, "The sensitivity of the antigen detection depends on the prevalence of the virus. The positive rate of the antigen rapid test is useful in the high prevalent area. If the viral load of the sample is high, the sensitivity of the antigen test and PCR test can be the same. All biomarkers combined together can be the most effective."
In addition to the 2019-nCoV Antigen Rapid Test Kit (Colloidal Gold Immunochromatography), Lepu Medical offers other comprehensive diagnostic solutions including nucleic acid series products and solutions, which provide standard tests for COVID-19 diagnosis, and neutralization antibody test products to detect the effectiveness of COVID-19 vaccines in the post-pandemic period. Other COVID-19 products and solutions include sample collection kits, manual sample extraction kits, automated sample extractors, nucleic acid test kits, real-time PCR systems for standard clinical nucleic acid diagnostics, and antibody test kits and systems for vaccine effect evaluation.
Lepu Medical has been providing proactive support to control the COVID-19 pandemic from an early stage. In early 2020, during the outbreak in China, Lepu Medical started emergency production of medical equipment supplies and donated more than RMB5 million of personal protective equipment (PPE), medical devices and cash to severely impacted areas. The company also developed an online free medical consulting system "Doctor Lepu" to assist patients remotely while supporting social distancing. Lepu Medical subsidiaries also dispatched volunteers and a medical aid team to the city of Wuhan and provided mass COVID-19 nucleic acid testing in Beijing where the company is headquartered. Lepu Medical's products were also widely used across China's hospitals, medical centers and COVID-19 testing sites. These products included Lepu Medical's automatic PCR analysis system, personal forehead thermometers, pulse oximeters, monitors, electrocardiographs, household oxygen generators and pharmaceutical products.
As a global company covering more than 80 countries and regions with over 20 global OEM partners, Lepu Medical has been leveraging its global network and resources in research and development, manufacturing and distribution to support worldwide efforts to counter COVID-19. Various relevant products of the company have been granted CE certificate in Europe and approved by the U.S. Food and Drug Administration (FDA), and distributed to over 140 countries to fight against the pandemic. Lepu Medical has supported regular mass testing in multiple countries, assisting in the organized reopening of schools in Austria by providing over 20 million antigen test kits to conduct nationwide testing starting in January 2021. The Lepu SARS-CoV-2 Antigen Rapid Test Kit, listed on China's Whitelist for Export, is certified by the official institute PEI in Germany and granted special approval by the German Federal Institute for Drugs and Medical Devices (BfArM) for self-testing.
Upholding the company's spirit of integrity, quality and scientific innovation, Lepu Medical will continue to focus on combating the COVID-19 pandemic and go above and beyond to provide the best quality of products and services to satisfy the needs of healthcare professionals and patients.