Recently, the research article Artificial Intelligence-based Remote Electrocardiogram Monitoring Improves the Diagnosis of Arrhythmias and Reduces Morbidity Caused by Fatal Arrhythmias co-authored by Hefei Hi-tech Cardiovascular Hospital and Lepu Medical was published on Journal of Prevention Medicine & Healthcare issued by JSciMed Central, an international publisher covering science, medicine, and engineering journals. Written by Li Liu, Juan Chen, Fan Yang, Kejiang Cao, and Weiyi Fang, the research evaluated the values of AI-based ECG monitoring and data analysis in cilical practice.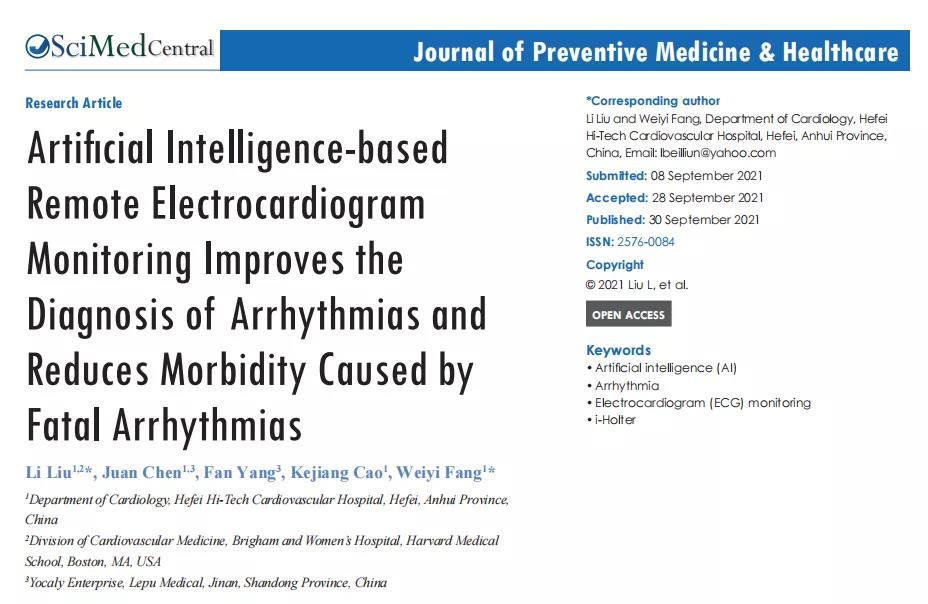 Cardiac arrhythmias are remarkably common in patients with Cardiovascular Disorders (CVD), some are life-threatening, but they routienly go undiagnosed because they are often unpredictable, transient, and asymptomatic. This research examined a total of 16,408 patients who were evaluated for suspected CVD at Hefei Hi-Tech Cardiovascular Hospital and its associated community hospitals/clinics. Based on the data collected and processed by i-Holter, a remote AI-based ECG monitoring device of Lepu Medical, it indicated that 68.3% of the patients were detected to have different arrhythmias. With i-Holter, patients in fatal situations can be managed in a timely manner, improving patient prognosis and leading to reduced mortality.
The research also summarized that i-Hoter is reliable real-time ECG remote monitoring equipment that enables rapid early warning and accurate diagnosis, and helps clinicians manage patients efficiently. The AI-based ECG device can serve as a cost-effective solution to cope with high-volume ECG data in a timely manner.
Lepu will focus on constant product innovation with edge-cutting technology and always stand at the forefront of academic research to better cater to the needs of global patients and healthcare practitioners. To learn more about our AI-ECG product portfolio, please visit: https://en.lepumedical.com/products/neo-ecg/
Review the full article below: