2022.10.10,Ultraskin™ Hydrophilic Guide Wire developed by Lepu Medical has obtained the MDR certificate issued by the BSI Netherlands Notified Body (2797) and is approved for sale in the EU market. The certificate is valid for 5 years. Ultraskin™ Hydrophilic Guide Wire is the second product of Lepu Medical's high-risk class III product certified under MDR.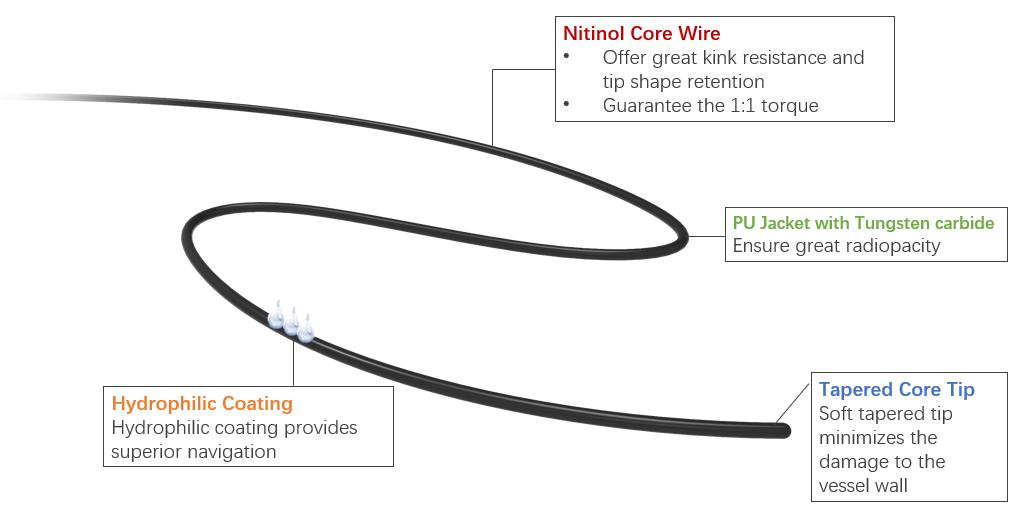 Let's Learn About Ultraskin™ Hydrophilic Guide Wire
Ultraskin™ Hydrophilic Guide Wire is a special interventional guide wire which is composed of Nitinol core wire, PU Jacket with Tungsten carbide, Hydrophilic Coating and Soft Tapered Tip. Nitinol core wire offers great kink resistance and tip shape retention, guarantee the 1:1 transmission from proximal shaft to distal tip. The PU jacket with Tungsten carbide ensures great radiopacity. Nitinol core wires are covered with Polyurethane and Hydrophilic coating for excellent Kink-resistance and frictionless delivery to the desired positions. The 30 mm soft tapered tip makes a soft guidewire tip to minimize the damage to the vessel wall. And there are two tip types: straight, and 135° angled.
The Ultraskin™ Hydrophilic Guide Wire is another MDR certified product following the Balancium PTCA guide wire https://en.lepumedical.com/products/balancium-ptca-guide-wire/ , which accelerates the CE certification transition for the coronary intervention product line. The acquisition of this new certificate further proves the excellent performance of Lepu Medical's coronary intervention products and the strength of Lepu Medical, and accelerates the pace of the transition of Lepu Medical's coronary intervention access products to MDR, injecting new strength into the company's expansion into overseas markets. Lepu Medical will continue to speed up the transition of certificates for various products, quickly respond to the regulatory requirements for medical devices in overseas markets, and continue to contribute to the vigorous development of overseas markets.